Lots of Link Love
11:40 AM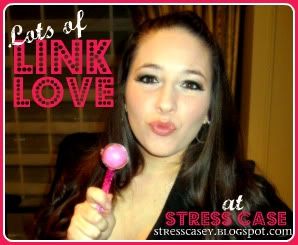 I'm linking up with Casey to share posts that made laugh, smile, cry, and inspired me.
There were so many this week. Here are my choices.
Why don't you link up with us?
Plath's Adventures...shared the adorable Valentine's cards she made with her daughter.
Katrina...posted about why her Grandma pushes her 365 Photo project.
Sharon...told us about an elegant sort of glitter card. Love this butterfly card!
Mandy...talked on not being good enough. Whew. So inspiring.
Adventure of E...shared a very delish looking recipe for brownies. Yum.
Leah posted about being transparent.
Sarah wrote a lovely letter to her future child. <3